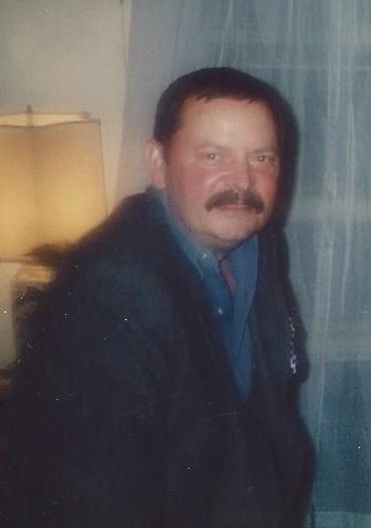 Not this one obviously, but some images in this post are NSFW.
I was scrolling through my photos the other day, looking for I-don't-remember-what, when the picture I've cropped down to this image of my grandmother's friend Herbert caught my eye. I cut out the married couple who were sitting to his left because they're only peripherally a part of the story I want to tell and I don't want what I think I recall about them to be associated with their faces—just in case I'm wrong and someone reading this newsletter knew them.
I put "knew" in the past tense because I assume, like Herbert, that they're dead. What I think I know about them is that theirs was a long and happy marriage of convenience, a lavender marriage, that they entered into when they both were very young to camouflage the husband's homosexuality. I have a vague memory of my grandmother telling me this at the same time she told me Herbert was a gay man who'd been celibate since he either converted or recommitted himself—I don't remember which—to Roman Catholicism and that he'd chosen to live according to the doctrine that held being gay was not a sin, but gay sex was.
I'm not surprised these were among the people who became my grandmother's social circle after my grandfather died. By the time I knew my grandparents, they were rock-solid members of the Jewish community in Jackson Heights. I don't know many of the details, but, from what I do know, they were very different people when they were younger—this would have been in the late 1920s—and they hung out with an artsy, bohemian, LGBTQ (though that label obviously didn't exist back then) crowd.
Herbert was European, though I either don't remember or never learned what country he was from. He had an old-style European's disdain for what he always referred to as "American crassness," in everything from food to clothes to literature and music. My grandmother adored how opinionated he was, how easy it was to needle him into the kind of debate, filled with wit and banter, that she liked to have, but that she loved watching others have even more—the kind of debate she always tried to provoke between Herbert and me. I did not like debating Herbert. I was much younger than he was and found his inflexibility tedious. I saw no point in arguing with someone so condescending to my own tastes and interests. He was never openly insulting, but he made no secret of the fact that he thought that someone of my "obvious intelligence" ought to have "aimed higher."
Herbert was, however, a very good storyteller. He was well-traveled and had a writerly flair for conjuring the places he'd been to with just a few details. He'd served in either World War II or the Korean War—I don't remember which—and he told some marvelous tales of the time he spent in Japan, though all I remember of them is that they were marvelous. He started sharing them with me after I came back in 1989 from the year I spent teaching in South Korea, and it never occurred to me back then that he might have been trying to use those stories as a way to connect. I wish now that I had not been as arrogant as I was and that I'd paid closer attention, or that I'd written down some of what he told me.
Instead, all I have are some Japanese prints he gave my grandmother to give me—with one exception, he never gave me anything directly—and a stack of photographs someone (maybe him, maybe not, I never knew) took when they were in Korea ten or twenty years before I was.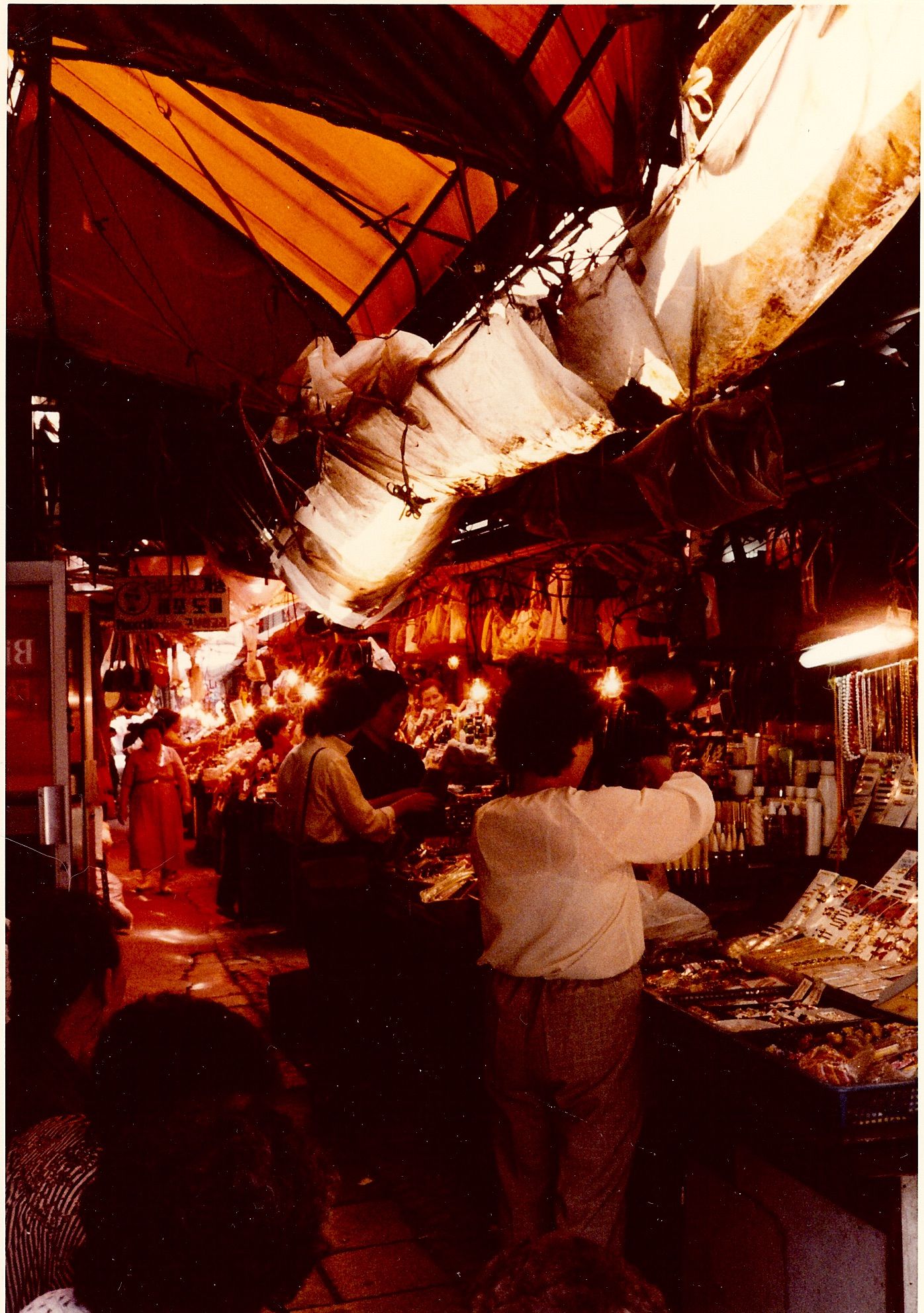 I do not know exactly when or where the pictures from Korea were taken, but some of them, like the one above, evoke for me even now the places in Seoul where I lived, worked, and played. I tried as I was writing this to look for those places on the map, and it took me longer than I thought it would. The city has changed a lot in the past three-decades-plus, including both the names of those places and the conventions of transliterating Korean into English. I lived in what were called at the time the Jugong Apartments right across the street from the Shincheon subway station. That station, though, is now called Jamsilsaenae Station, and while I can find on the map Building 112, where I lived in apartment 513, the apartment complex has been renamed, and I think it is now called the Jamsil Els Apartments.
Just a few dozen steps south and to the right of what was then the entrance to Shincheon station on the south side of Olympic-ro (Avenue) was the Saemaeul Shijang, now known (in English anyway) as the Saemaeul Traditional Market. These two pictures, which resemble a little of what you'll see at the links above, might as well have been taken there—at least according to what I remember the market being like in the late 1980s.
And whether this next picture was taken at Naksansa or not, it reminds me of what it felt like to walk alone on the grounds of the first Buddhist temple I visited during my stay.
I wish I had pictures of this quality from my stay in Korea. My photos are in an album that I have not yet had a chance to scan, but none of them are as visually evocative as the set that Herbert gave me.
The Japanese prints Herbert gave me are gorgeous! Thanks to my friends Andy Meyer and Eleanor Goodman, who translated the Chinese characters for me, I was able to find some information about this one: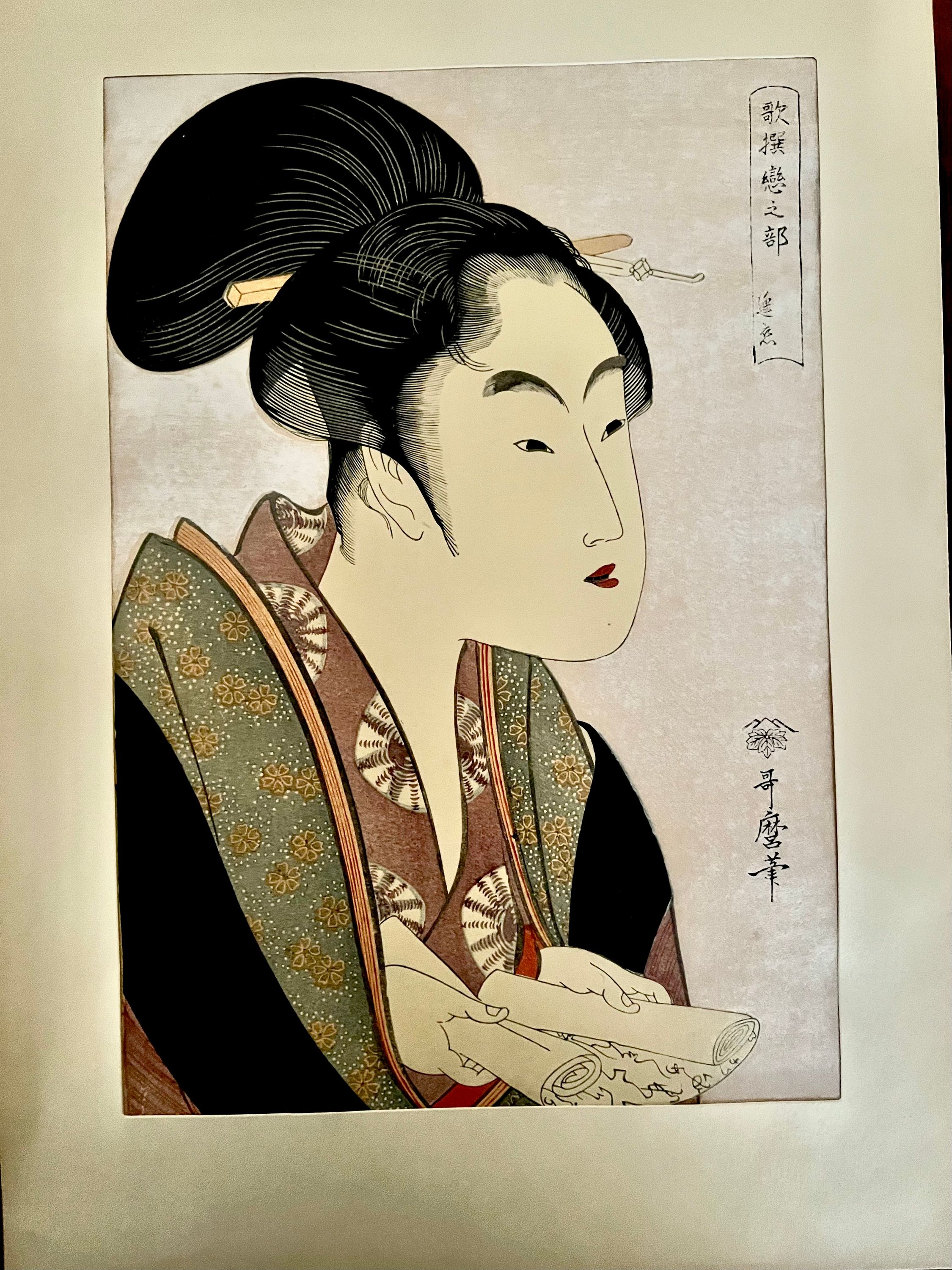 It's by Kitagawa Utumaro, "The most celebrated artist of women of the whole 'Ukiyo-e' school," according to the British Museum's website. This is from Wikipedia:
Little is known of Utamaro's life. His work began to appear in the 1770s, and he rose to prominence in the early 1790s with his portraits of beauties with exaggerated, elongated features. He produced over 2000 known prints and was one of the few ukiyo-e artists to achieve fame throughout Japan in his lifetime. In 1804 he was arrested and manacled for fifty days for making illegal prints depicting the 16th-century military ruler Toyotomi Hideyoshi, and died two years later.
The above print is called Yogoto ni Au Koi ("love that meets each night"), suggesting that the letter the woman is pulling in delight from the breast pocket of her kimono is from a lover who wants to meet her that night. It's from a series called Kasen Koi no Bu, or "Anthology of Poems: The Love Section," which Wikipedia describes as
a series of five ukiyo-e prints…published c. 1793–94 [the title of which] parodies the section headings in waka and kyōka poetry anthologies, and takes the theme of love. The women depicted are not courtesans or others employed in the pleasure districts, who were the typically subjects of ukiyo-e portraits of beauties.
The other two prints are also by Utumaro, though I have not been able to find out anything else about them, except that the first one is now used to advertise skin care products.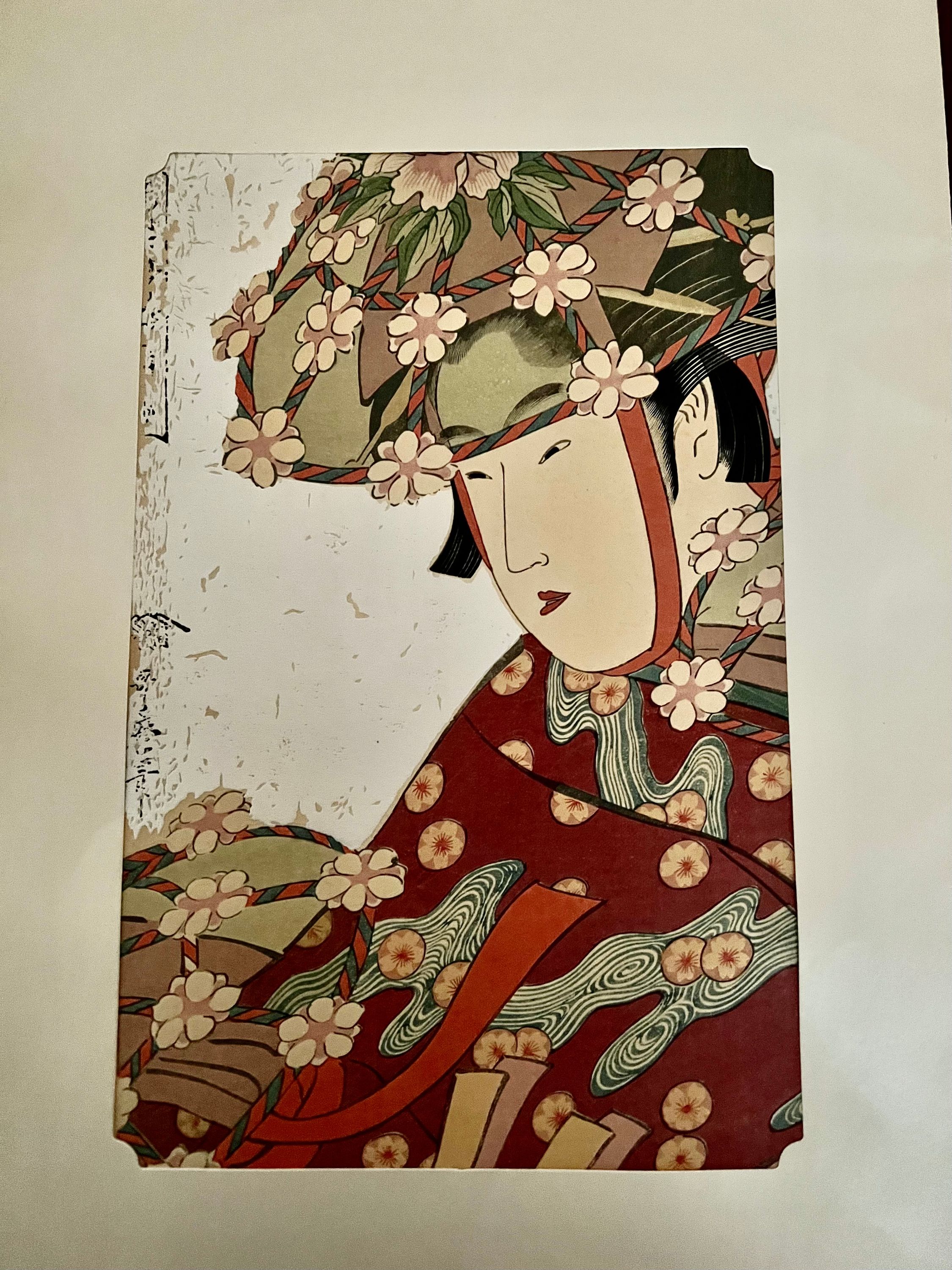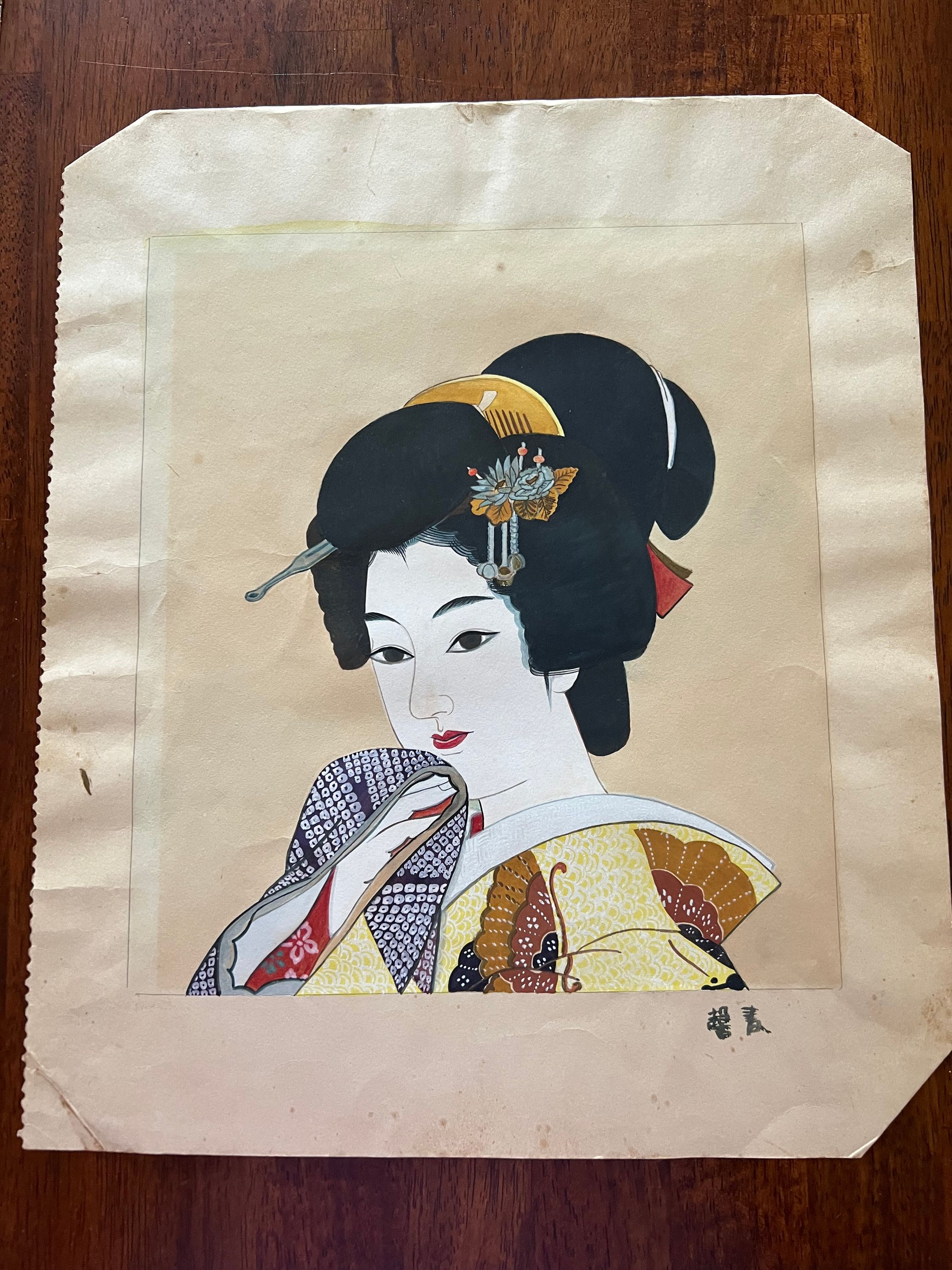 Utumaro, I also discovered, was known for his erotic drawings. This one, among others, can be found at the Metropolitan Museum of Art's website: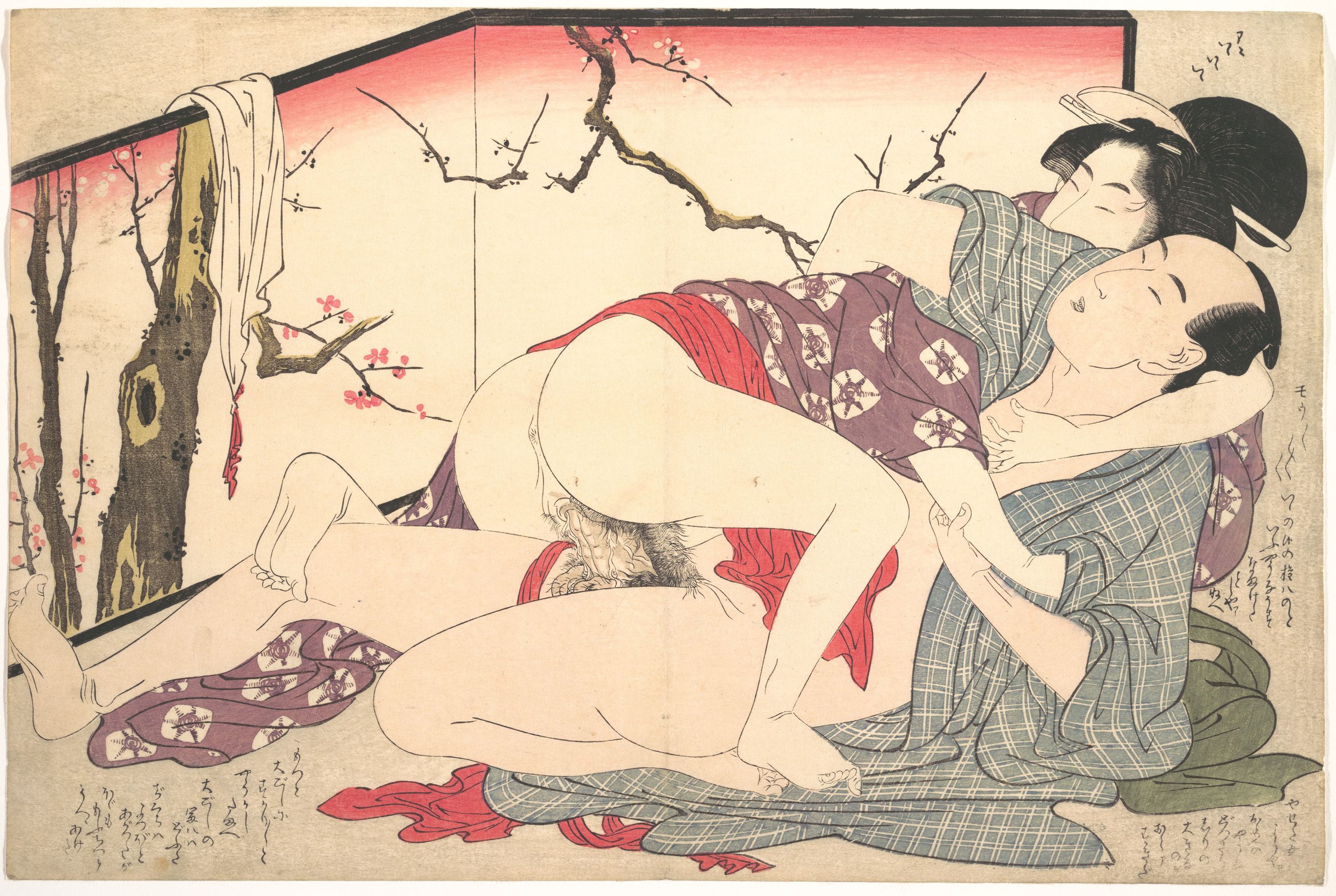 Which leads me to Herbert's mischievous streak. When my grandmother was moving out of the apartment she'd lived in for more than fifty years, long after Herbert was gone, she gave me these hand-painted plates that he'd given her to give me at some point before he died. (I don't remember when he died or what he died of.)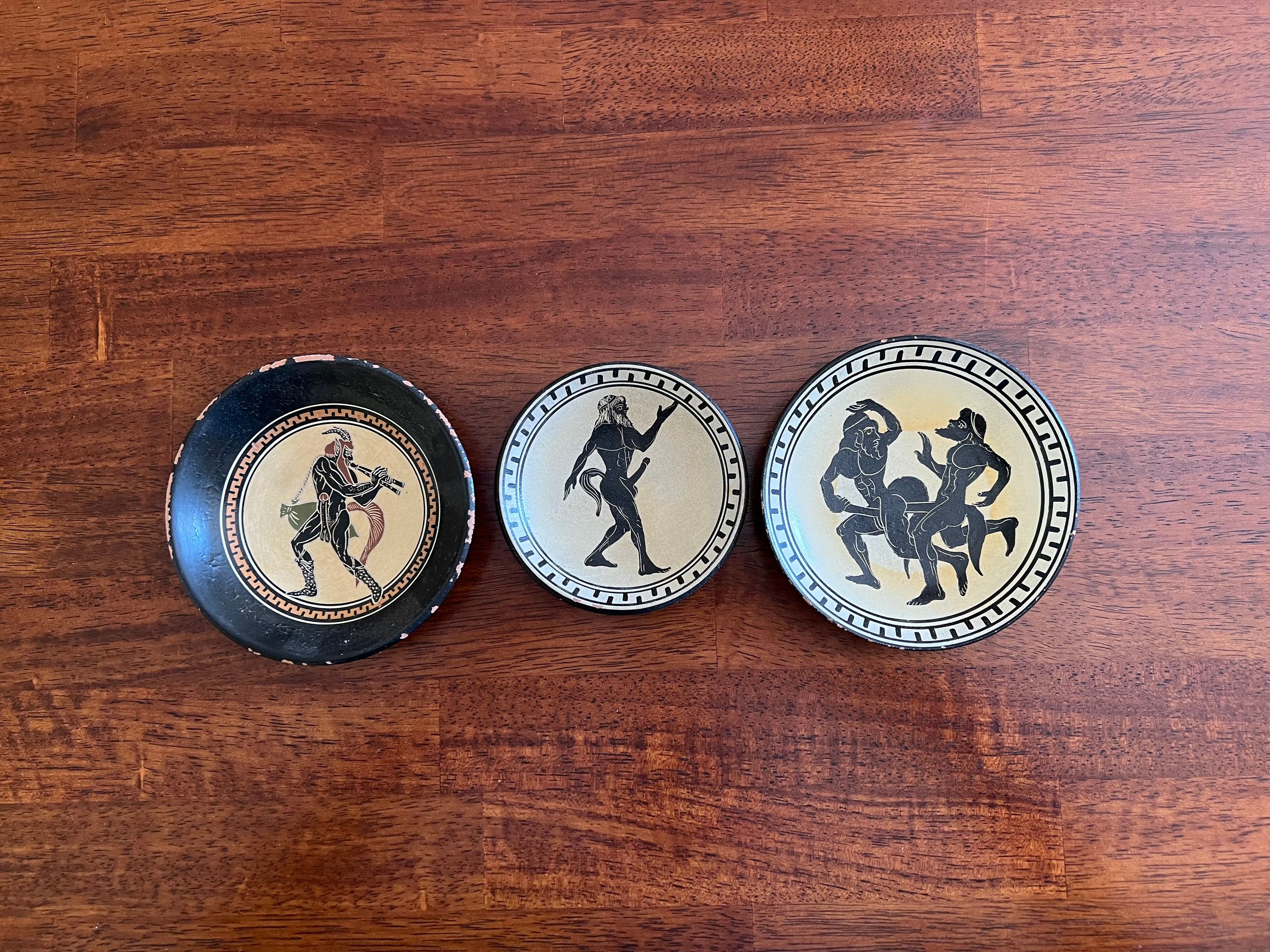 She'd found the plates, she told me, while going through the drawers in her desk. She figured she must have put them there when Herbert gave them to her and then forgot about them, but she was happy now that they'd finally found their way to where he'd wanted them to be.
I was disappointed not to have gotten them when he was alive. Not only was there no way Herbert could have known how much in line with my own developing interests in gender and sexuality the images on the plates would be; I would have loved to hear him tell the story of where and when he bought them and of the artist whose signature is on the back of one of the plates.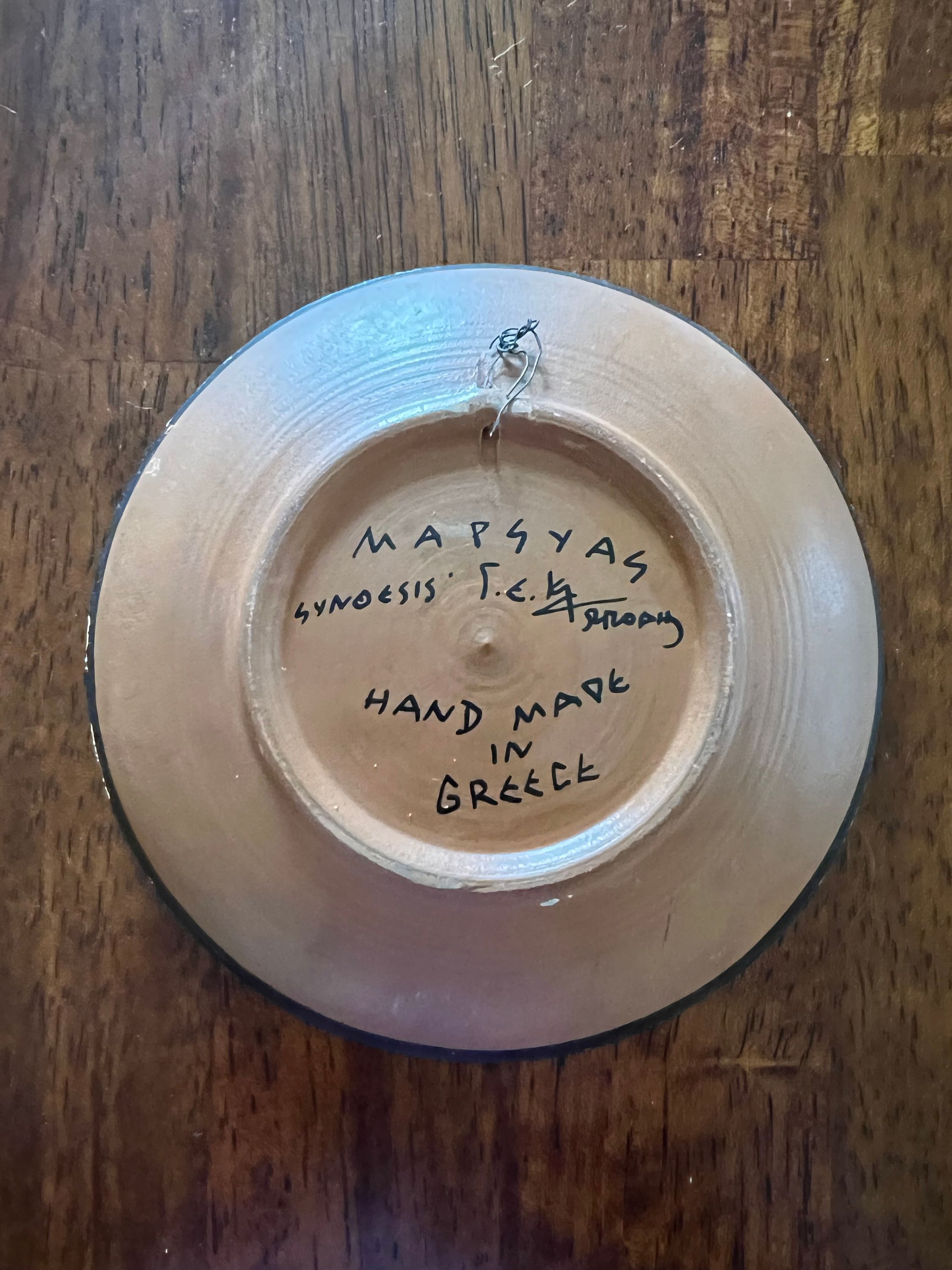 The last thing I have that is connected to Herbert, which is actually what started me thinking about writing this post in the first place, is the one thing I received directly from his hand, though it did not originally belong to him.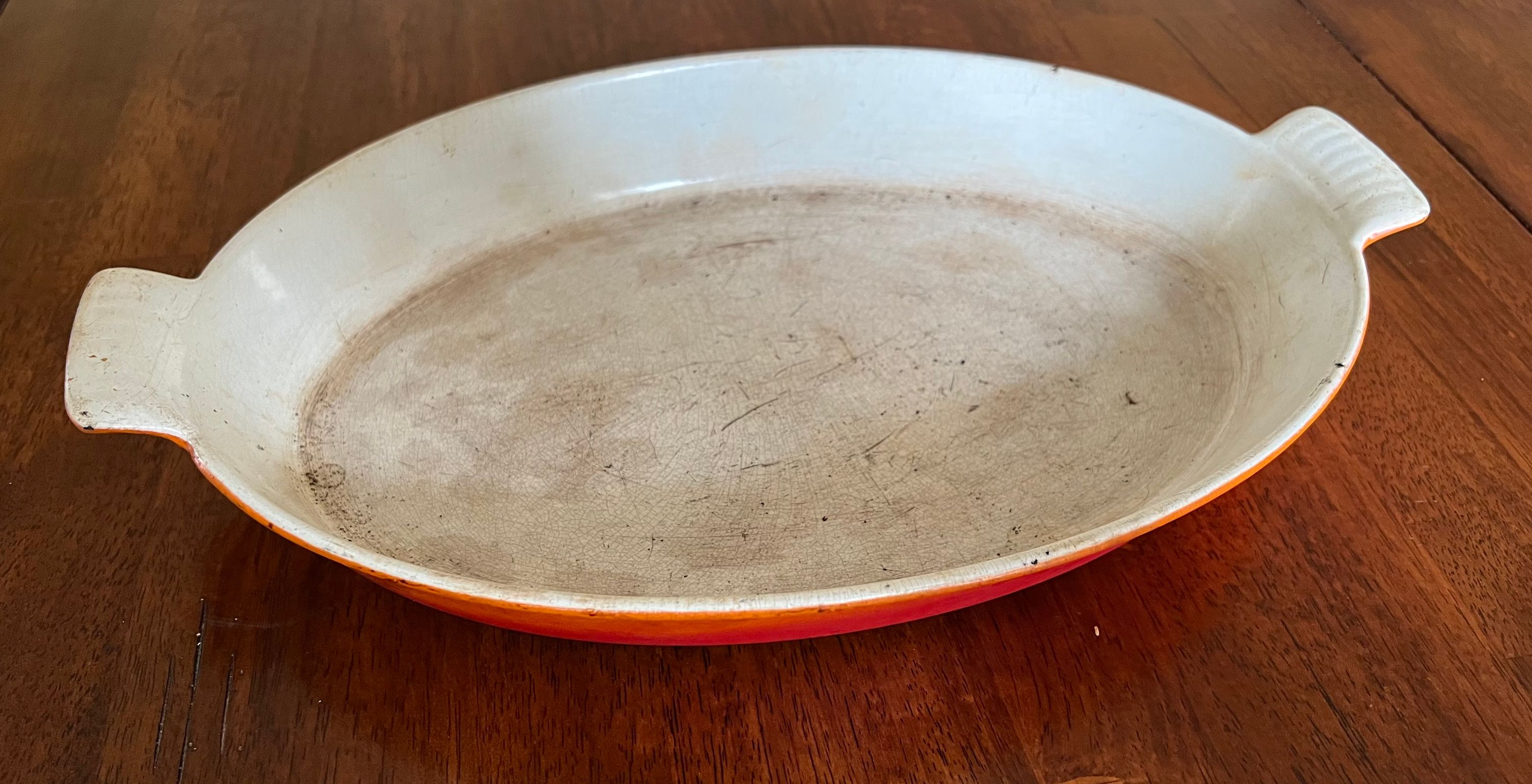 The baking dish had belonged, as did the frying pan with the screw-in wooden handle that came with it, to a man named Michael, whom I met only once, when I accompanied Herbert and my grandmother on a visit. (The frying pan went the way of the world a long time ago.) Michael, whose family had disowned him, was dying of AIDS. I don't remember if Michael was a friend or former lover of Herbert's, or if Herbert had met and befriended him after he'd gotten sick, but by the time of our visit Herbert was one of the people helping to make sure that Michael was not alone and was as comfortable as possible as death approached.
I remember a pale, gaunt man with short-cropped red hair and a neatly trimmed beard and mustache propped up on pillows so he could watch TV and how his face lit up when we entered the room. We, though it was mostly Herbert, made small talk. About what, I don't remember. It was the first time I'd ever been in the presence of someone who was dying, who knew he was dying, and I did not know what to say or how to process it after we left.
Some months later, I was visiting my grandmother and she told me that Michael had died. We were sitting at her dining room table, waiting for Herbert, who was coming to have lunch with us. She'd been helping Herbert go through Michael's belongings, she said, trying to figure out what to do with the things Michael had not designated for specific people, and they'd been having a hell of a time trying to figure out how to dispose of the sexual paraphernalia they'd found—dildos, cuffs, ball gags, and so on—without embarrassing either themselves or, posthumously, Michael. I laughed out loud as my grandmother listed those items as if they had been, for example, mismatched forks, knives, and spoons.
When Herbert arrived, he was carrying both the baking dish and the frying pan that I mentioned above. "Michael remembered you vividly from your visit," Herbert told me, "and when I saw him next, he said about you, 'He is a good, kind, decent man.' I told him you liked to cook and so, as we were making his final arrangements, he said he wanted you to have these." I don't know what Michael saw in me during the short time we were together nor did I have the slightest idea how to acknowledge what I understood to be Herbert's implicit agreement with Michael's assessment. I said thank you and I don't think I said anything else about it after that.
Some time ago, as I put the baking dish into the oven for our dinner (freshly caught cod covered in a tomato-cilantro-cumin sauce), it hit me that I think about Herbert and Michael every time I use it and that I've been carrying for the last thirty-something years a gratitude that I myself did not fully appreciate at the time, one I never had the chance to express to Michael and that I wish I'd understood well enough to express to Herbert. That's when I decided to write this post, which I found I could not write without talking about the other material ways that Herbert, as a result of his friendship with my grandmother, wove himself into the fabric of my life. He is gone and will not know, but I'm glad I have finally acknowledged it.